Summary
With the rise of digital TV, HDTV and flat-panel TVs, a new interface, HDMI, has emerged.
HDMI (High-Definition Multimedia Interface) is the first and only uncompressed digital audio / video interface supported by the industry, which basically has no length limits. With only one HDMI cable, 13 analog transmission cables at most can be instead of, effectively solving the problem of messy connection behind the home entertainment system. So there is a great deal of market demands for this equipment "Double-headed Taping machine", which processes HDMI cables, and has high requirements on the equipment speed, stability, and taping effect.
Process Requirements
According to different demands, the technical requirements as below.
Achieve single-line single package, double-lines single package or double package, four lines single package or double package, and so on. Taping material: aluminum thin, mica tape, Mylar tape, cotton paper and non-woven fabrics etc;
In operation, the line speed of whole machine could be adjusted arbitrarily and the taping line speed must be consistent with the whole machine, so that the taping density will remains the same;
The taping density is adjustable.(Overlapping Ratio);
The unwinding speed is not affected by whole machine speed adjustment and could be automatically adjusted with the whole machine line speed regulation;
According to roll-diameter change, the winding can automatically adjust line speed, to guarantee the stability of winding.
Solutions of VEICHI Products
According to technical requirement and drive requirement, VEICHI configures the control system as below: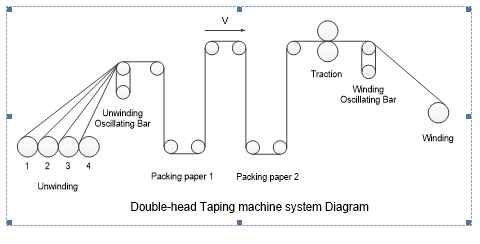 There are 4 AC72-L driving four unwinding machine, which adopts the unique "oscillating bar + PID" solution of VEICHI inverter. The system control is not affected by whole machine line speed, and could be automatically adjusted according to the unwinding speed. Besides, It can also achieve auto reversal winding;
There are two AC70 driving two taping machine, of which the taping speed is adjustable, and the frequency command is given from PLC;
AC70 drives one traction machine, of which the adjustment signal of line speed is given by analog output of HMI controlling PLC, or by potentiometer;
VEICHI AC200-L tension controller drives the winding machine, of which the input signal of line speed is from traction inverter AO1 output. Even if the line speed and roll-diameter is variable, with superior closed-loop speed control (oscillating bar + PID), AC200-L can achieve constant tension control, to guarantee the stability of winding;
By using HMI, the main machine speed, wrapper width, overlapping ratio, and taping speed could be adjusted. There is a built-in algorithm that sets wrapper width and overlapping ratio,and by calculating nodal distance P and taping angle with these two parameters, the wrapper speed could be controlled to simple operation, which belongs the first in industry.
Conclusion
The application of AC70 in double-head taping machine is highly praised by customers because of its good synchronization effect, smooth start-up and operation, and good molding effect. The specific advantages are as the following three points:
Good synchronization effect. AC70 perfectly achieves the synchronous operation of traction machine and winding machine;
Stable and reliable operation. The operation is stable and reliable during operation, which brings great convenience for system stability;
Stable start-up. AC70 achieves good start-up effect while traction machine and winding machine start synchronously.