Industry introduction
With the continuous improvement of the level of my country's catering industry, the demand for napkins is increasing. Therefore, the market for equipment for making napkin machines has also increased.
The paper towel folding machine system occupies an extremely important position in the current production of the paper towel industry. Compared with the traditional semi-automatic paper folding machine, the more automated and efficient paper folding system occupies a great advantage in this industry and has a broader application prospect.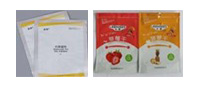 System topology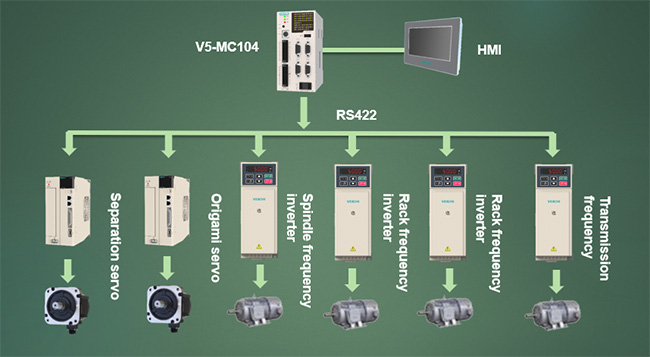 Program highlights
1. The system adopts VEICHI V5-MC104 motion controller, dual CPU hardware architecture, and the underlying processing speed is faster.
2. Man-machine interface centralized control, stable performance, easy to operate and maintain.
3. Both the paper separating axis and the dragging axis of the system follow the feedback pulse of the spindle encoder to make the electronic cam track movement. Compared with the traditional speed ratio and positioning method, the movement method is simpler, the precision is higher, and the stability is stronger.
4. The connection between V5 controller and servo adopts a high-speed differential signal, which has high stability and is not easy to interfere with. The maximum pulse speed of the differential pulse port is 3MHz, which can achieve extremely high control accuracy.
Process principle
The structure of the high-speed paper towel folding machine is mainly composed of the following parts:
Spindle paper folding mechanism: Driven by the frequency converter, it cuts and folds the paper towels from the conveying mechanism of the two racks.
Material rack conveying mechanism: Driven by two inverters, the frequency is given by the spindle pulse output, and the relative spindle speed ratio of the two inverters can be changed in real-time through the 485 writing method to adapt to the feeding and conveying of the origami raw materials Appropriate speed.
Conveyor belt mechanism: It is mainly used to transfer the folded paper to the next processing link for subsequent processing.
Separation shaft mechanism: Driven by a servo driver, it follows the main shaft to do the first position cam position movement part.
Paper drag shaft mechanism: Driven by a servo driver, it completes the coupling operation part of the electronic cam of the spindle and the slave axis at the second position.
Cylinder action mechanism: including fork cylinder, horizontal push cylinder, paper folding cylinder, and paper push cylinder, etc.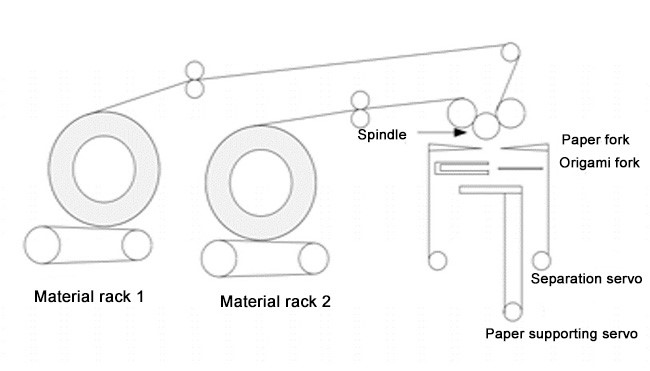 Technical index
Processing smaller paper (50 sheets/pack) can reach 70M/min.
When the number of sheets is more than 100 sheets, the efficiency can be increased to more than 85M/min.
Application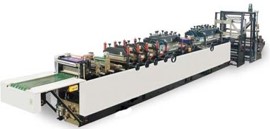 Three-side sealing bag making machine