AC830 Series Four-quadrant Inverter
High-performance control platform
Suitable for various types of loads
Excellent four-quadrant feedback capability
High precision and fast response
Features
Specifications
Downloads
Solutions
Cases
News
Related Products
Additional Information
AC830 Series Four-quadrant Inverter Overview
AC830 series four-quadrant inverter cabinet belongs to VEICHI's four-quadrant frequency conversion speed regulation product technology platform. It adopts ARM+FPGA dual control architecture, ultra-efficient and energy-saving drive. The AFE active rectification feedback scheme is adopted to effectively reduce the harmonic content on the grid side. Perfect without harmonics, full drive and full control, compatible with the drive control of asynchronous motors, synchronous motors, and high-speed motors.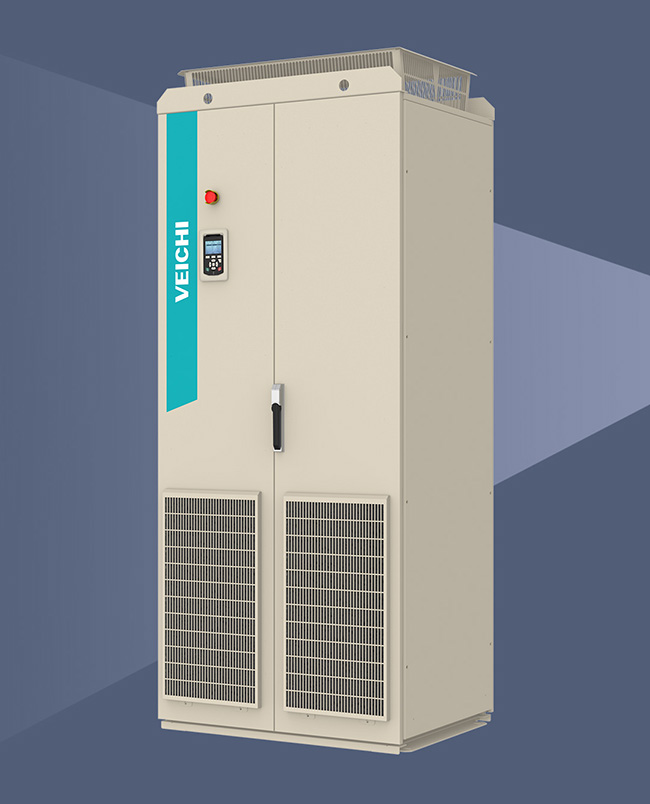 AC830 series four-quadrant inverter features
1. Excellent control performance.
2. Convenient debugging method.
3. Multiple fault handling and protection.
High-performance control platform
The AFE active rectification feedback scheme is adopted to reduce the harmonics on the grid side. It can realize high-speed and high-precision loop control operation to ensure the excellent dynamic response capability and control accuracy of the drive system.
Various control methods
VF control, open loop vector and closed loop vector.
Suitable for various types of loads
Asynchronous motors, synchronous motors, reluctance motors and high-speed motors.
High precision and fast response
Speed accuracy: ±0.01% of rated synchronous speed
Torque response: ≤5ms.
Excellent four-quadrant feedback capability
Active rectification four-quadrant inverter is equipped with LCL PWM filter unit, which can effectively reduce the harmonic content on the grid side.

Debug host computer adapted to working conditions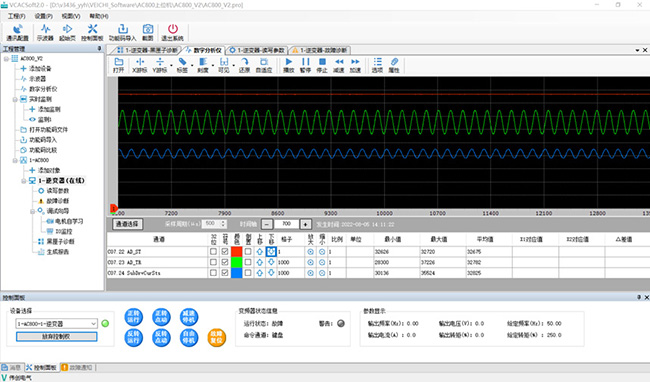 1. The VCSoft software has a friendly interface and is easy to use without any system expertise.
2. The debugging engineer operates through the graphical interface and menu. Simple configuration, parameter setting, fault detection, system maintenance and service of complex systems can be completed in a short time.
3. The trend record of up to 8 signals can be completed, which simplifies the diagnosis and optimization of the inverter.
4. The high-speed data recorder inside the VCU controller can be accessed, and the information of the 50 observed objects before and after the failure will be completely restored. It can help debugging engineers locate faults efficiently and optimize the process control process of the production line.
Convenient and fast multi-function keyboard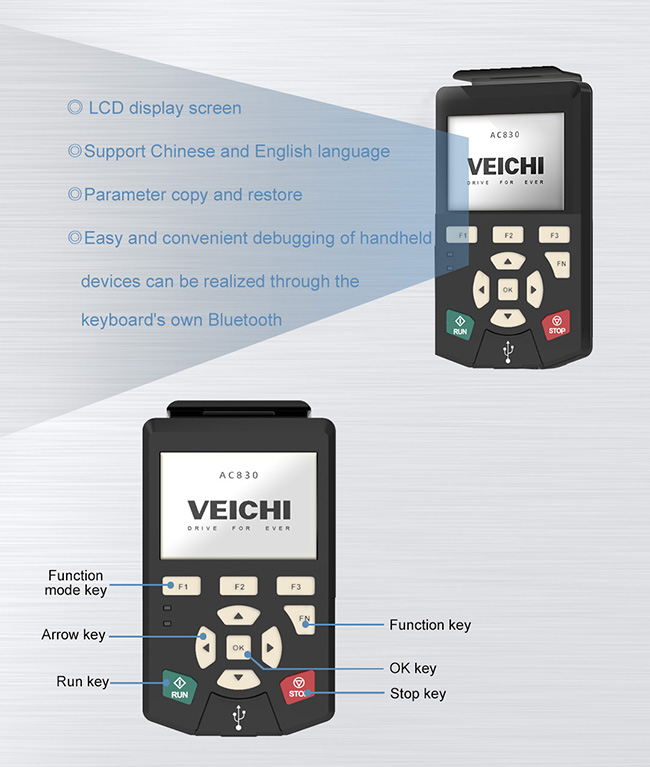 Comprehensive multiple protection
Functional safety protection
The STO-Safe Torque Off function can be configured. Through hardware circuit detection, the IGBT drive pulse is blocked to disconnect the motor power supply, to prevent the motor from accidentally starting, and to ensure the safety of personnel and equipment.
Inverter protection
Short circuit, overcurrent, overvoltage, undervoltage, phase loss, overheating, overload, encoder disconnection, etc. up to 30 kinds of setting protection.
Motor protection
Support PT100 temperature detection protection.
Fault classification and classification management
According to the fault situation, combined with many years of application experience, the fault management is classified and classified to reduce the number of fault downtimes.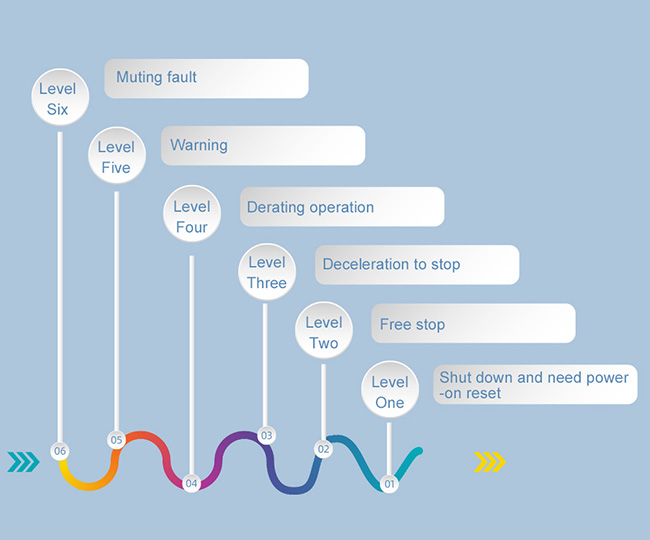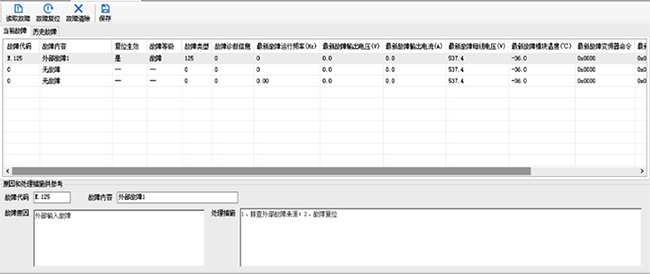 Complete troubleshooting information
The Application of AC830 Series Four-quadrant Inverter
It is widely used in metallurgy, petroleum, mining, shipbuilding, power supply and other industries.
Specifications
Basic rectification
Input voltage

400V system: 380~460Vac, 690V system: 525~690Vac

Output voltage

400V system: 0~415Vac, 690V system: 0~690Vac

Overload capacity
Light overload: 110% allowed for 1 minute every 5 minutes
Heavy overload: 150% every 5 minutes allowed for 1 minute
Work efficiency

≥97%

Grid side power factor

≥0.99(adjustable)

Total harmonic content THD

THDI﹤5%(rated power);THDU﹤5%,(Rsc>20)
Control characteristics
Output frequency

0Hz~300Hz

Carrier frequency
400V system: 45~75kW, default 3.2kHz
400V system: 90~355kW, default 2kHz
690V system: 45~560kW, default 1.5kHz
Increasing the carrier frequency requires derating
Control method

Frequency Control (V/F), Encoder Vector Control (FVC), Encoderless Vector Control (SVC)

Speed ratio
V/F control: 1:50
SVC control: 1:200
FVC control: 1:1000
Speed accuracy
SVC control: 5% rated slip of asynchronous machine, 0.2% rated speed of synchronous machine
FVC control: ±0.01% rated speed
Torque Response
SVC control: ≤5ms
FVC control: ≤5ms
Starting torque
SVC control: 0.5Hz/150% TN
FVC control: 0Hz/200% TN
Features

| | |
| --- | --- |
| Protective function | Short circuit, overcurrent, overvoltage, undervoltage, phase loss, overheating, overload, encoder disconnection, etc. |
| Standard function | V/F control, vector control function, voltage automatic adjustment function, step speed frequency setting, forward and reverse rotation control, slip compensation, torque compensation, PID control |
Environmental requirementss
Operating temperature
﹣10℃~+40℃, when the temperature exceeds 40℃, derating is required
The ambient temperature is derated by 1% for every 1°C increase, and the maximum operating ambient temperature is 50°C
Working humidity

5%RH~95%RH, no condensation

Storage temperature

-40℃~70℃

Storage humidity

5%RH~95%RH, no condensation

Protection class

Cabinet: IP20

Noise

≤85dB(A)

Installation height
Below 1000m altitude: 100% full load (no derating)
Above 1000m altitude: derate by 1% for every 100m rise, the maximum altitude is 4000m
Features
Vibration performance
Standard: Test Fc in IEC 60068-2-6
Sinusoidal vibration: 10Hz~57Hz, 0.075mm
Sinusoidal vibration: 57Hz~150Hz, 10m/s2
Impact performance
Standard: Test Ea in IEC 60068-2-27:2008
Half-sine pulse: 50m/s2, time 30ms
Cooling method

Forced air cooling AF
Downloads
| File Name | Type | Language | File Type | Update | Download |
| --- | --- | --- | --- | --- | --- |
Buyers who liked this product also liked