Benefit:
1) One time investment and up to 20 years benefit;
2) ZERO-CO2 Emission;
3) Cost Saving 20-30%, 10-20% more crop yield;
Overview
With the development of photovoltaic technology, solar energy is widely used in agricultural irrigation as a clean and renewable energy to save great amount of electricity consumption. VEICHI solar pump inverter can quickly and accurately adjust the flow rate and keep the pipeline pressure constantly according to the water consumption.
Site instruction
Wheat is one of the main crops in Morocco,The farm's central pivot irrigation system installed the Veichi solar pump inverter, which converts the PV panels' DC power into AC to drive the water pump. The Veichi inverter uses highly efficient MPPT to maintain maximum output efficiency in all weather conditions.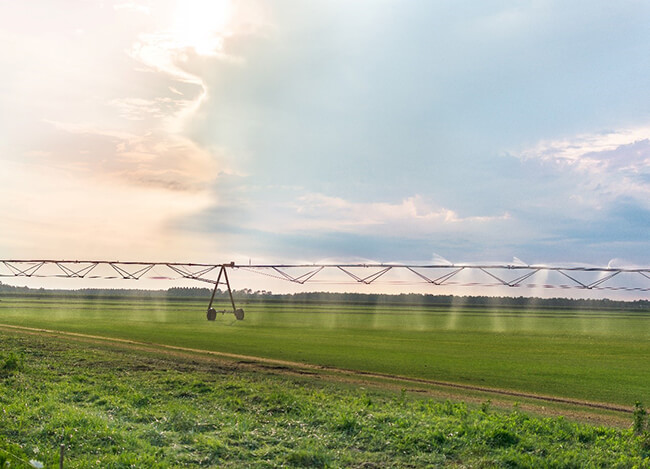 Site 1
Location:Indore,MP,India
Date:3rd March 2016
Pump:
Brand: SHAKTI
Rated Power: 5HP
Rated Voltage: 380VAC 3Phase
Rated Current: 8.6A
Rated Frequency: 50Hz
Rated RPM:2920RPM
Solar Pump Controller:
Drive Brand /Model:VEICHI / SI10-D5-004G
Rated Power/Current: 4kw/10A
Rated Output: 380VAC 3Phase
Input Voltage Range: 250VDC – 800VDC
Solar Array:
Rated Power: 250W
Voc: 37.2V
Vmp: 29.95V
Imp: 8.35A
Solar Array:20Pcs in One Series
Total Power:5000W
Total Vmp:599VDC
Pictures: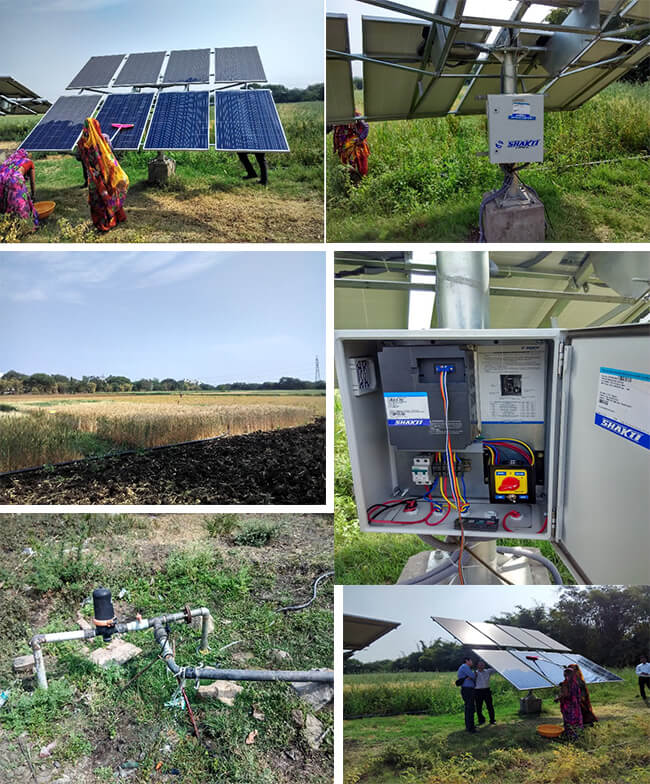 Site 2
Location: Santo Domingo, Dominica
Date:20,September 2016
Pump:
Rated Power: 7.5kW
Rated Voltage: 380VAC 3 Phase
Rated Current: 17A
Rated Frequency: 50Hz
Rated RPM: 2850RPM
Solar Pump Controller:
Drive Brand /Model:VEICHI / SI20-D5-011G
Rated Power/Current: 11kw/25A
Rated Output: 380VAC 3 Phase
Input Voltage Range: 250VDC –780VDC
Solar Array:
Solar Array*2:16Pcs*2
Total Power:9600W
Total Vmp:580VDC
Pictures: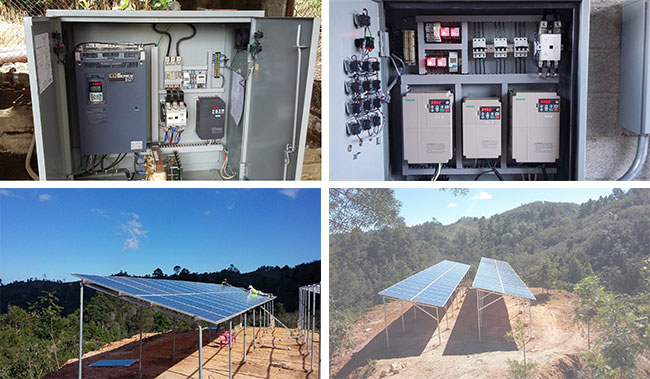 Site 3
Location: Santo Domingo, Dominica
Date:20,September 2016
Pump:
Rated Power: 7.5kW
Rated Voltage: 380VAC 3 Phase
Rated Current: 17A
Rated Frequency: 50Hz
Rated RPM: 2850RPM
Solar Pump Controller:
Drive Brand /Model:VEICHI / SI10-T3-011G
Rated Power/Current: 11kw/25A
Rated Output: 380VAC 3 Phase
Input Voltage Range: 250VDC –780VDC
Solar Array:
Solar Array:16Pcs*2
Total Power:9600W
Total Vmp:580VDC
Pictures: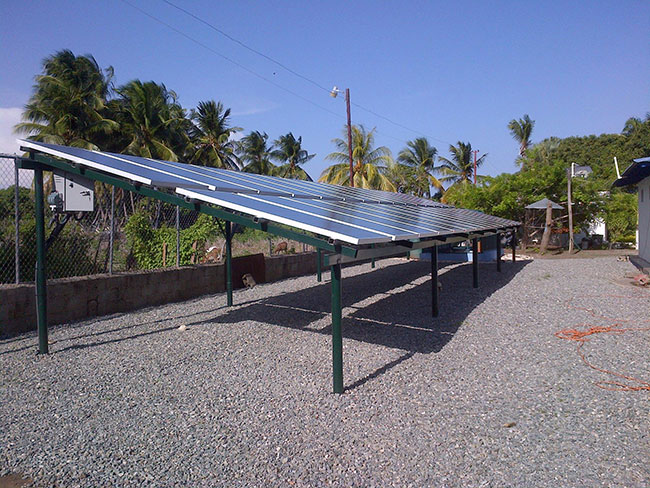 Site 4
Location:Santo Domingo, Dominica
Date:12,March 2018
Pump:
Rated Power: 2.2kW
Rated Voltage: 220VAC 3 Phase
Rated Current: 10A
Rated Frequency: 50Hz
Rated RPM: 2950RPM
Solar Pump Controller:
Drive Brand /Model:VEICHI / SI20-D3-2R2G
Rated Power/Current: 2.2kw/10A
Rated Output: 220VAC 3 Phase
Input Voltage Range: 150VDC –450VDC
Solar Array:
Solar Array:10Pcs*1
Total Power:3000W
Total Vmp:330VDC
Video:
Site 5
Location:Cairo, Egypt
Date:20,March 2018
Pump:
Rated Power: 45kW
Rated Voltage: 380VAC 3 Phase
Rated Current: 90A
Rated Frequency: 50Hz
Rated RPM: 2850RPM
Solar Pump Controller:
Drive Brand /Model:VEICHI / SI20-T3-055G
Rated Power/Current: 55kw/110A
Rated Output: 380VAC 3 Phase
Input Voltage Range: 250VDC –780VDC
Solar Array:
Solar Array:16Pcs*12
Total Power:57600W
Total Vmp:580VDC
Pictures: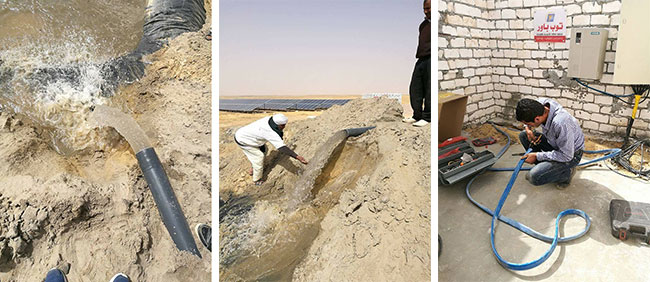 Site 6
Location:Cairo, Egypt
Date:20,March 2018
Pump:
Rated Power: 75kW
Rated Voltage: 380VAC 3 Phase
Rated Current: 150A
Rated Frequency: 50Hz
Rated RPM: 2950RPM
Solar Pump Controller:
Drive Brand /Model:VEICHI / SI20-T3-090G
Rated Power/Current: 90kw/180A
Rated Output: 380VAC 3 Phase
Input Voltage Range: 250VDC –780VDC
Solar Array:
Solar Array:16Pcs*20
Total Power:96000W
Total Vmp:590VDC
Pictures: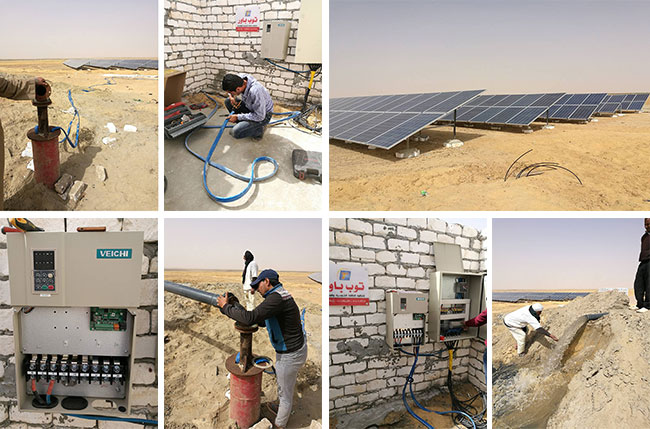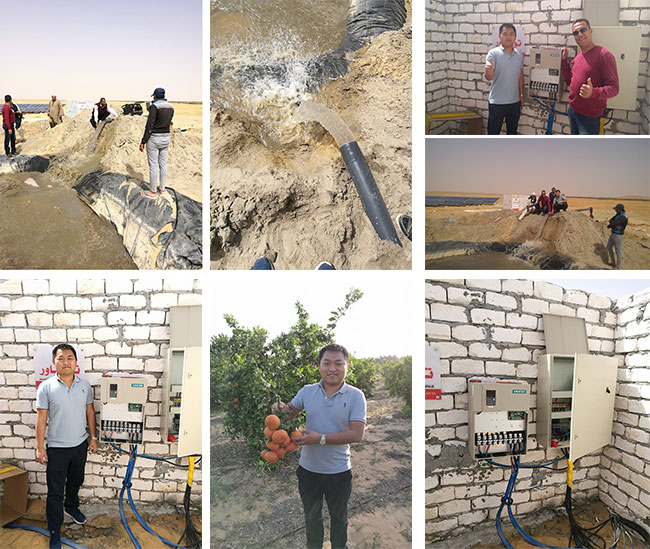 Site 7
Location: Lahore, Pakistan
Date:2, April 2018
Pump:
Rated Power: 11kW
Rated Voltage: 380VAC 3 Phase
Rated Current: 25A
Rated Frequency: 50Hz
Rated RPM: 2950RPM
Solar Pump Controller:
Drive Brand /Model:VEICHI / SI20-D5-011G
Rated Power/Current: 11kw/25A
Rated Output: 380VAC 3 Phase
Input Voltage Range: 250VDC –780VDC
Solar Array:
Solar Array:16Pcs*3
Total Power:14880W
Total Vmp:590VDC
Pictures:

Site 8
Location: Lahore, Pakistan
Date: 28, May 2018
Pump:
Rated Power: 7.5kW
Rated Voltage: 380VAC 3 Phase
Rated Current: 17A
Rated Frequency: 50Hz
Rated RPM: 2850RPM
Solar Pump Controller:
Drive Brand /Model:VEICHI / SI30-D5-7R5G-R
Rated Power/Current: 7.5kw/17A
Rated Output: 380VAC 3 Phase
Input Voltage Range: 300VDC –850VDC
Solar Array:
Solar Array:16Pcs*2
Total Power:9600W
Total Vmp:580VDC
Pictures:

Site 9
Location: Islamabad, Pakistan
Date: 5, June 2018
Pump:
Rated Power: 11kW
Rated Voltage: 380VAC 3 Phase
Rated Current: 25A
Rated Frequency: 50Hz
Rated RPM: 2850RPM
Solar Pump Controller:
Drive Brand /Model:VEICHI / SI30-D5-011G-R
Rated Power/Current: 11kw/25A
Rated Output: 380VAC 3 Phase
Input Voltage Range: 300VDC –850VDC
Solar Array:
Solar Array:15*3
Total Power:13500W
Total Vmp:580VDC
Pictures:


Site 10
Location:Bangkok, Thailand
Date:25,June 2018
Pump:
Brand: LEO
Rated Power: 2.2kW
Rated Voltage: 380VAC 3 Phase
Rated Current: 5A
Rated Frequency: 50Hz
Rated RPM: 2850RPM
Solar Pump Controller:
Drive Brand /Model:VEICHI / SI20-D5-2R2G
Rated Power/Current: 2.2kw/5A
Rated Output: 380VAC 3 Phase
Input Voltage Range: 250VDC –780VDC
Solar Array:
Solar Array:16Pcs*1
Total Power:4800W
Total Vmp:580VDC
Pictures: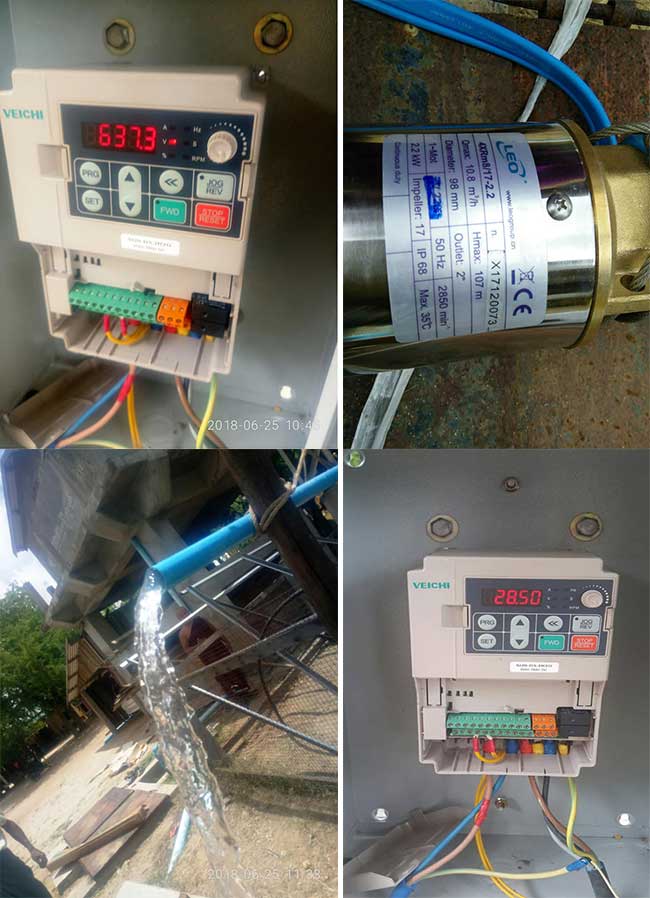 Site 11
Location:Cairo, Egypt
Date:19,July 2018
Pump:
Rated Power: 4kW
Rated Voltage: 380VAC 3 Phase
Rated Current: 10A
Rated Frequency: 50Hz
Rated RPM: 2950RPM
Solar Pump Controller:
Drive Brand /Model:VEICHI / SI20-D5-004G
Rated Power/Current: 4kw/10A
Rated Output: 380VAC 3 Phase
Input Voltage Range: 250VDC –780VDC
Solar Array:
Solar Array:19Pcs*1
Total Power:4750W
Total Vmp:580VDC
Pictures: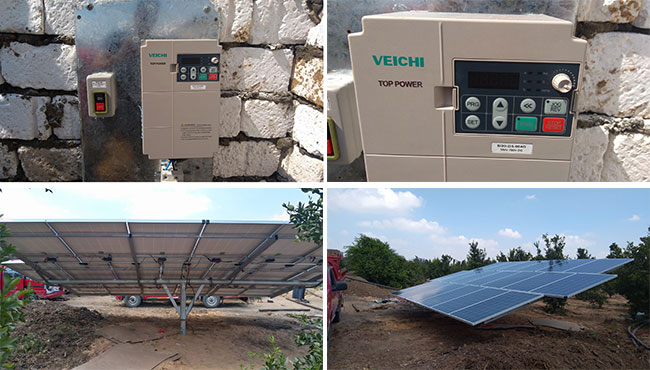 Site 12
Location: Ahmedabad, India
Date: 17, August 2018
Pump:
Rated Power: 4kW
Rated Voltage: 380VAC 3 Phase
Rated Current: 10A
Rated Frequency: 50Hz
Rated RPM: 2850RPM
Solar Pump Controller:
Drive Brand /Model:VEICHI / SI30-D5-004G
Rated Power/Current: 4kw/10A
Rated Output: 380VAC 3 Phase
Input Voltage Range: 300VDC –850VDC
Solar Array:
Solar Array:16Pcs in One Series
Total Power:4800W
Total Vmp:580VDC
Video:
Site 13
Location:Quetta Pakistan
Date:28,February 2019
Pump:
Rated Power: 1kW
Rated Voltage: 110VAC 3 Phase
Rated Current: 8.1A
Rated Frequency: 50Hz
Rated RPM: 2950RPM
Solar Pump Controller:
Drive Brand /Model:VEICHI / SI20-D1-1R5G
Rated Power/Current: 1.5kw/10A
Rated Output: 110VAC 3 Phase
Input Voltage Range: 60VDC –450VDC
Solar Array:
Solar Array:4Pcs*1
Total Power:1080W
Total Vmp:120VDC
Video:
Site 14
Location: Egypt
Date:17, March.,2019
Pump:
Rated Power: 11kW
Rated Voltage: 380VAC 3 Phase
Rated Current: 26.2A
Rated Frequency: 50Hz
Rated RPM: 2920RPM
Solar Pump Controller:
Drive Brand /Model:VEICHI / SI23-D5-015G-A
Rated Power/Current: 15kw/32A
Rated Output: 380VAC 3 Phase
Input Voltage Range: 250VDC –780VDC
Solar Array:
Solar Array:57Pcs
Total Power:17385W
Total Voc:712VDC
Pictures:

Site 15
Location: Morocco
Date:April 2019
Pump:
Rated Power: 75KW 100HP
Rated Voltage: AC380V 3 PHASE
Rated Current: 150A
Solar pump inverter:
Model: SI23-T3-090G-A
Rated Power: 90KW
Rated Output Voltage: AC380V 3 PHASE
Rated Current: 180A
DC input range: 350~800VDC
Solar panel:
Rated power: 280W
Vmp: 31.64V
Voc: 38.47V
parallel: 23
Series: 18
Total Power: 115920W
Total Vmp: 569.52V
Total Voc: 692.46V
Pictures:

Site 16
Location:Sana,Yemen
Date:1st,June 2019
Pump:
Rated Power: 11kW
Rated Voltage: 380VAC 3 Phase
Rated Current: 25A
Rated Frequency: 50Hz
Rated RPM: 2850RPM
Solar Pump Controller:
Drive Brand /Model:VEICHI / SI30-D5-011G-R
Rated Power/Current: 11kw/25A
Rated Output: 380VAC 3 Phase
Input Voltage Range: 300VDC –850VDC
Solar Array:
Solar Array:16Pcs in One Series,3Series for each system
Total Power:14400W
Total Vmp:580VDC
Video:
Site 17
Location:Quetta, Pakistan
Date: 12, June 2019
Pump:
Rated Power: 1.5kW
Rated Voltage: 110VAC 3 Phase
Rated Current: 10A
Rated Frequency: 50Hz
Rated RPM: 2950RPM
Solar Pump Controller:
Drive Brand /Model:VEICHI / SI20-D1-1R5G
Rated Power/Current: 1.5kw/10A
Rated Output: 110VAC 3 Phase
Input Voltage Range: 60VDC –450VDC
Solar Array:
Solar Array:8Pcs*1
Total Power:2160W
Total Vmp:231VDC
Video:
Site 18
Location:Kandahar,Afghanistan
Date:26, June 2019
Pump:
Rated Power: 1.1kW
Rated Voltage: 110VAC 3Phase
Rated Current: 9A
Rated Frequency: 50Hz
Rated RPM: 2850RPM
Solar Pump Controller:
Drive Brand /Model:VEICHI / SI22-D1-1R5G
Rated Power/Current: 1.5kw/10A
Rated Output: 110VAC 3Phase
Input Voltage Range: 60VDC –400VDC
Solar Array:
Rated Power: 250W
Voc: 36.3V
Vmp: 30.2V
Imp: 8.33A
Solar Array:4Pcs in One Series
Total Power:1000W;
Total Vmp:120.8VDC
Video:
Site 19
Location : Casablanca, Morocco
Date:14,August 2019
Pump:
Rated Power: 45kW
Rated Voltage: 380VAC 3 Phase
Rated Current: 90A
Rated Frequency: 50Hz
Rated RPM: 2850RPM
Solar Pump Controller:
Drive Brand /Model:VEICHI / SI23-T3-055G-A
Rated Power/Current: 55kw/110A
Rated Output: 380VAC 3 Phase
Input Voltage Range: 250VDC –780VDC
Solar Array:
Solar Array:16Pcs*13
Total Power:62400W
Total Vmp:580VDC
Video:
Site 20
Location: Pakistan
Date:17, August,2019
Pump:
Rated Power: 4kW
Rated Voltage: 380VAC 3 Phase
Rated Current: 11A
Rated Frequency: 50Hz
Rated RPM: 2800RPM
Solar Pump Controller:
Drive Brand /Model:VEICHI / SI23-D5-5R5G-A
Rated Power/Current: 5.5kw/13A
Rated Output: 380VAC 3 Phase
Input Voltage Range: 250VDC –780VDC
Solar Array:
Solar Array:16Pcs
Total Power:4880W
Total Voc:720VDC
Video:
Site 21
Location: Egypt
Date:17, August.,2019
Pump:
Rated Power: 7.5kW
Rated Voltage: 380VAC 3 Phase
Rated Current: 16.5A
Rated Frequency: 50Hz
Rated RPM: 2820RPM
Solar Pump Controller:
Drive Brand /Model:VEICHI / SI23-D5-7R5G-A
Rated Power/Current: 7.5kw/17A
Rated Output: 380VAC 3 Phase
Input Voltage Range: 250VDC –780VDC
Solar Array:
Solar Array:40Pcs
Total Power:11400W
Total Voc:687VDC
Pictures: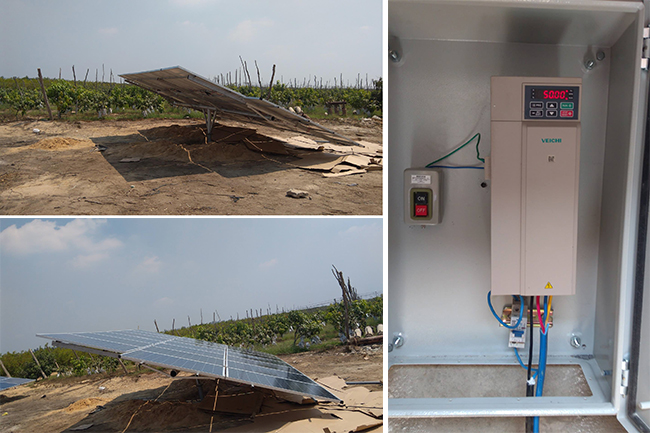 Site 22
Location:Kandahar,Afghanistan
Date:21,August 2019
Pump:
Rated Power: 0.92kW
Rated Voltage: 110VAC 3Phase
Rated Current: 8.6A
Rated Frequency: 50Hz
Rated RPM: 2850RPM
Solar Pump Controller:
Drive Brand /Model:VEICHI / SI22-D1-1R5G
Rated Power/Current: 1.5kw/10A
Rated Output: 110VAC 3Phase
Input Voltage Range: 60VDC –400VDC
Solar Array:
Rated Power: 270W
Voc: 38.3V
Vmp: 30.8V
Imp: 8.77A
Solar Array:3Pcs in One Series
Total Power:810W;
Total Vmp:92.4VDC
Video:
Site 23
Location: Thailand
Date:10, Sep.,2019
Pump:
Rated Power: 2.2kW
Rated Voltage: 230VAC 3 Phase
Rated Current: 8.9A
Rated Frequency: 50Hz
Rated RPM: 2950RPM
Solar Pump Controller:
Drive Brand /Model:VEICHI / SI23-D3-2R2G-A
Rated Power/Current: 2.2kw/10A
Rated Output: 230VAC 3 Phase
Input Voltage Range: 150VDC –420VDC
Solar Array:
Solar Array:30Pcs
Total Power:3800W
Total Voc:395VDC
Pictures:

Site 24
Location:Chihuahua, Mexico
Date:9,April 2020
Pump:
Rated Power: 90kW
Rated Voltage: 380VAC 3 Phase
Rated Current: 180A
Rated Frequency: 50Hz
Rated RPM: 2950RPM
Solar Pump Controller:
Drive Brand /Model:VEICHI / SI20-T3-090G
Rated Power/Current: 90kw/180A
Rated Output: 380VAC 3 Phase
Input Voltage Range: 350VDC –780VDC
Solar Array:
Solar Array:16Pcs*25
Total Power:120kW
Total Vmp:590VDC
Video:
Site 25
Location: Cape Down South Africa
Date: 22, May 2020
Pump:
Rated Power: 5.5kW
Rated Voltage: 380VAC 3 Phase
Rated Current: 13A
Rated Frequency: 50Hz
Rated RPM: 2950RPM
Solar Pump Controller:
Drive Brand /Model:VEICHI / SI30-D5-5R5G
Rated Power/Current: 5.5kw/13A
Rated Output: 380VAC 3 Phase
Input Voltage Range: 300VDC –850VDC
Solar Array:
Solar Array:15Pcs*2
Total Power:9000W
Total Vmp:580VDC
Pictures:

Site 26
Location:Yangon , Myanmar
Date:25,May 2020
Pump:
Rated Power: 2.2kW
Rated Voltage: 220VAC 3Phase
Rated Current: 9A
Rated Frequency: 50Hz
Rated RPM: 2850RPM
Solar Pump Controller:
Drive Brand /Model:VEICHI / SI22-D3-2R2G
Rated Power/Current: 2.2kw/10A
Rated Output: 220VAC 3Phase
Input Voltage Range: 60VDC –450VDC
Solar Array:
Solar Array:12Pcs in One Series
Total Power:3000W
Total Vmp:336VDC
Pictures:


Site 27
Location:Kolkata,West Bengal ,India
Date:26,May 2020
Pump: Surface Pump
Rated Power: 1.5kW
Rated Voltage: 160VAC 3Phase
Rated Current: 8A
Rated Frequency: 100Hz
Rated RPM: 3000RPM
Solar Pump Controller:
Drive Brand /Model:VEICHI / SI22-D3-2R2G
Rated Power/Current: 2.2kw/10A
Rated Output: 220VAC 3Phase
Input Voltage Range: 60VDC –400VDC
Solar Array:
Rated Power: 300W
Voc: 46.38V
Vmp: 37.29V
Imp: 8.65A
Solar Array:6Pcs in One Series
Total Power:1800W;
Total Vmp:223.74VDC
Video:
Site 28
Location:Kolkata,West Bengal ,India
Date:20,June 2020
Pump: Surface Pump
Rated Power: 0.9kW
Rated Voltage: 110VAC 3Phase
Rated Current: 8.5A
Rated Frequency: 100Hz
Rated RPM: 3000RPM
Solar Pump Controller:
Drive Brand /Model:VEICHI / SI22-D3-2R2G
Rated Power/Current: 2.2kw/10A
Rated Output: 220VAC 3Phase
Input Voltage Range: 60VDC –400VDC
Solar Array:
Rated Power: 300W
Voc: 46.38V
Vmp: 37.29V
Imp: 8.65A
Solar Array:4Pcs in One Series
Total Power:1200W;
Total Vmp:150VDC
Video:
Site 29
Location : Kolkata, India
Date:20, June 2020
Pump:
Rated Power: 3.7kW
Rated Voltage: 380VAC 3 Phase
Rated Current: 9A
Rated Frequency: 50Hz
Rated RPM: 2850RPM
Solar Pump Controller:
Drive Brand /Model:VEICHI / SI23-D5-004G-A
Rated Power/Current: 4kw/10A
Rated Output: 380VAC 3 Phase
Input Voltage Range: 250VDC –780VDC
Solar Array:
Solar Array:16Pcs*1
Total Power:4800W
Total Vmp:580VDC
Video:
Site 30
Location : Kolkata, India
Date:15, July,2020
Pump:
Rated Power: 3.7kW
Rated Voltage: 380VAC 3 Phase
Rated Current: 9A
Rated Frequency: 50Hz
Rated RPM: 2850RPM
Solar Pump Controller:
Drive Brand /Model:VEICHI / SI23-D5-004G-A
Rated Power/Current: 4kw/10A
Rated Output: 380VAC 3 Phase
Input Voltage Range: 250VDC –780VDC
Solar Array:
Solar Array:16Pcs*1
Total Power:4800W
Total Vmp:580VDC
Video:
Site 31
Location: Egypt
Date:10 Aug.,2020
Pump:
Rated Power: 18.5kW
Rated Voltage: 380VAC 3 Phase
Rated Current: 38A
Rated Frequency: 50Hz
Rated RPM: 2920RPM
Solar Pump Controller:
Drive Brand /Model:VEICHI / SI23-D5-018G-A
Rated Power/Current: 18.5Kw/38A
Rated Output: 380VAC 3 Phase
Input Voltage Range: 250VDC –780VDC
Solar Array:
Solar Array:120Pcs
Total Power:24140W;
Total Voc:712VDC
Pictures: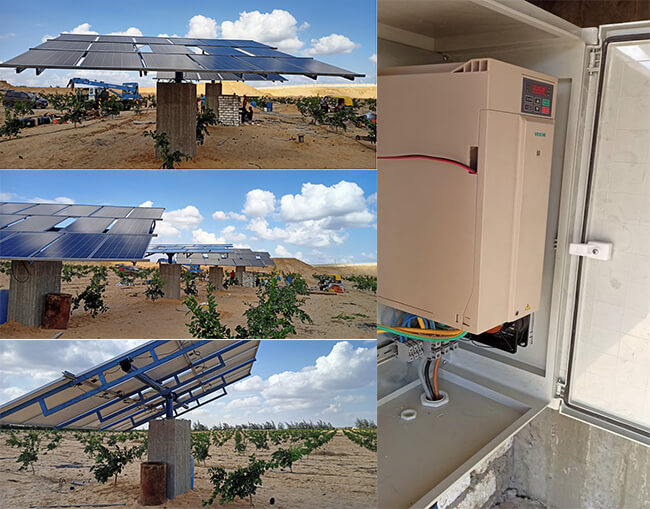 Site 32
Location:Morocco
Date:Sept. 2020
Pump:
Rated Power:75KW 100HP
Rated current:150A
Solar pump inverter:
Model:SI23-T3-075G-A
Rated Power:90KW
Rated output Voltage:AC380V 3 phase
DC input range:350~800V
Solar panel:
Rated power: 280W
Total Power:106,400W
Video:
Site 33
Location: Egypt
Date:21 Sep.,2020
Pump:
Rated Power: 22kW
Rated Voltage: 380VAC 3 Phase
Rated Current: 45A
Rated Frequency: 50Hz
Rated RPM: 2920RPM
Solar Pump Controller:
Drive Brand /Model:VEICHI / SI23-D5-022G-A
Rated Power/Current: 22Kw/45A
Rated Output: 380VAC 3 Phase
Input Voltage Range: 250VDC –780VDC
Solar Array:
Solar Array:135Pcs
Total Power:43875W;
Total Voc:698VDC
Pictures:
Site 34
Location: Egypt
Date:12 Oct,2020
Pump:
Rated Power: 15kW
Rated Voltage: 380VAC 3 Phase
Rated Current: 30A
Rated Frequency: 50Hz
Rated RPM: 2920RPM
Solar Pump Controller:
Drive Brand /Model:VEICHI / SI23-D5-015G-A
Rated Power/Current: 15Kw/32A
Rated Output: 380VAC 3 Phase
Input Voltage Range: 250VDC –780VDC
Solar Array:
Solar Array:68Pcs
Total Power:21420W;
Total Voc:715VDC
Pictures: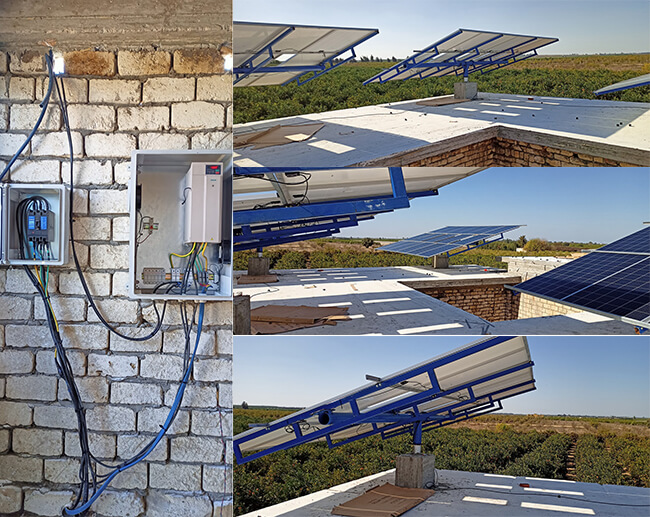 Site 35
Location:Cape Down South Africa
Date: 14, November 2020
Pump:
Rated Power: 4kW
Rated Voltage: 380VAC 3 Phase
Rated Current: 10A
Rated Frequency: 50Hz
Rated RPM: 2950RPM
Solar Pump Controller:
Drive Brand /Model:VEICHI / SI30-D5-004G
Rated Power/Current: 4kw/10A
Rated Output: 380VAC 3 Phase
Input Voltage Range: 300VDC –850VDC
Solar Array:
Solar Array:16Pcs*1 for each system
Total Power:4800W
Total Vmp:580VDC
Pictures:

Site 36
Location: Cape Down South Africa
Date: 15, February 2021
Pump:
Rated Power: 4kW
Rated Voltage: 380VAC 3 Phase
Rated Current: 10A
Rated Frequency: 50Hz
Rated RPM: 2950RPM
Solar Pump Controller:
Drive Brand /Model:VEICHI / SI30-D5-004G
Rated Power/Current: 4kw/10A
Rated Output: 380VAC 3 Phase
Input Voltage Range: 300VDC –850VDC
Solar Array:
Solar Array:16Pcs*1 for each system
Total Power:4800W
Total Vmp:580VDC
Pictures: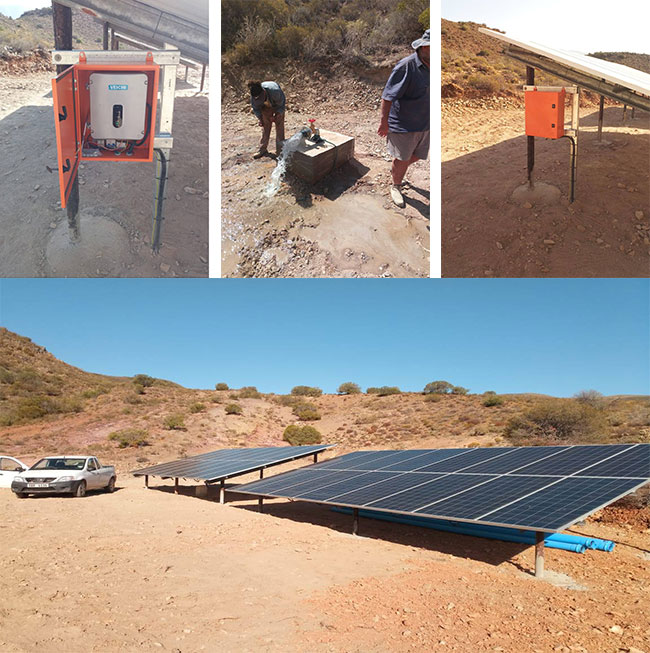 Site 37
Location:Johannesburg South Africa
Date: 25,February 2021
Pump:
Rated Power: 4kW
Rated Voltage: 380VAC 3 Phase
Rated Current: 10A
Rated Frequency: 50Hz
Rated RPM: 2950RPM
Solar Pump Controller:
Drive Brand /Model:VEICHI / SI30-D5-004G
Rated Power/Current: 4kw/10A
Rated Output: 380VAC 3 Phase
Input Voltage Range: 300VDC –850VDC
Solar Array:
Solar Array:16Pcs*1
Total Power:4800W
Total Vmp:580VDC
Pictures:

Site 38
Location:Santo Domingo, Dominica
Date: 11,March 2021
Pump:
Rated Power: 90kW
Rated Voltage: 400VAC 3 Phase
Rated Current: 180A
Rated Frequency: 50Hz
Rated RPM: 2950RPM
Solar Pump Controller:
Drive Brand /Model:VEICHI / SI20-T3-090G
Rated Power/Current: 90kw/180A
Rated Output: 380VAC 3 Phase
Input Voltage Range: 250VDC –780VDC
Solar Array:
Solar Array:16Pcs*24
Total Power:115200W
Total Vmp:590VDC
Pictures:

Video:
Site 39
Location : Casablanca, Morocco
Date:2, April 2021
Pump:
Rated Power: 75kW
Rated Voltage: 380VAC 3 Phase
Rated Current: 150A
Rated Frequency: 50Hz
Rated RPM: 2850RPM
Solar Pump Controller:
Drive Brand /Model:VEICHI / SI23-T3-075G-A
Rated Power/Current: 75kw/150A
Rated Output: 380VAC 3 Phase
Input Voltage Range: 250VDC –780VDC
Solar Array:
Solar Array:16Pcs*22
Total Power:106000W
Total Vmp:580VDC
Video:
Site 40
Location: Panzhihua, China
Date:30,April 2021
Pump:
Rated Power: 45kW
Rated Voltage: 380VAC 3 Phase
Rated Current: 82A
Rated Frequency: 50Hz
Rated RPM: 2850RPM
Solar Pump Controller:
Drive Brand /Model:VEICHI / SI23-T3-055G-A
Rated Power/Current: 55kw/110A
Rated Output: 380VAC 3 Phase
Input Voltage Range: 250VDC –780VDC
Solar Array:
Solar Array:15Pcs*14
Total Power:63000W
Total Vmp:580VDC
Video:
Site 41
Location: Egypt
Date:6 June.,2021
Pump:
Rated Power: 30kW
Rated Voltage: 380VAC 3 Phase
Rated Current: 44A
Rated Frequency: 50Hz
Rated RPM: 2920RPM
Solar Pump Controller:
Drive Brand /Model:VEICHI / SI23-D5-030G-A
Rated Power/Current: 30Kw/45A
Rated Output: 380VAC 3 Phase
Input Voltage Range: 250VDC –780VDC
Solar Array:
Solar Array:120Pcs
Total Power:41400W;
Total Voc:702VDC
Pictures: