VI10 Human Machine Interface
TFT liquid crystal display with 800*480 resolution and LED backlight.
Provides industrial touch screen in various screen sizes.
Adopts high performance 32-bit RISC CPU.
Perfect picture quality and preferential price.
Fast response speed.
Features
Specifications
Downloads
Solutions
Cases
News
Related Products
Additional Information
VI10 Overview
The VI series touch screen supports most PLC brand products on the market and is used in conjunction with programmable controllers and other controllers. It can realize the controller's data setting and operation control and display the controller's parameter status and data list at the same time. Realize human-computer interaction.
VI series——Human Machine Interface (HMI)
1. Adopt imported TFT liquid crystal display panel.
2. Multiple serial interfaces.
3. The programming software is easy to use.
4. The screen resolution is higher.
5. An efficient CPU has a higher response speed.
6. There are specific procedures for different industries.
7. Fast access speed.
8. A variety of sizes are available.
Wonderful display, different experience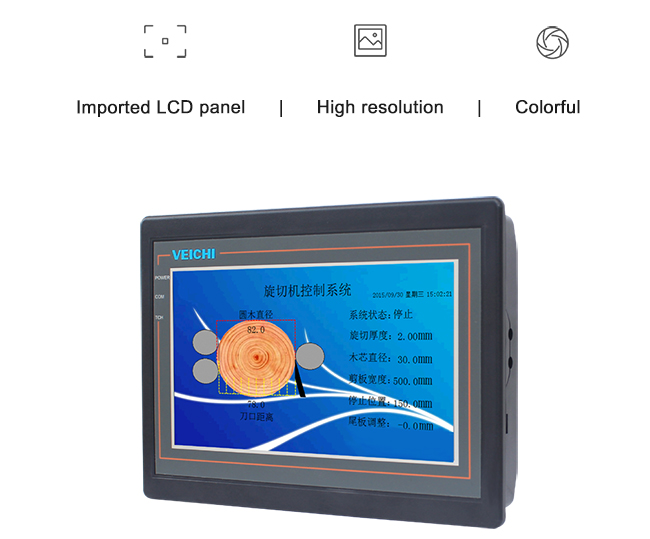 1. Adopt imported TFT liquid crystal display panel.
2. The screen analysis rate can reach 800*480.
3. 65536 color display.
High-performance chip
1. Industrial-grade high-performance 32-bit processor, RISC is 400MHz.
2. High capacity 128M FLASH, 64M DDRAM.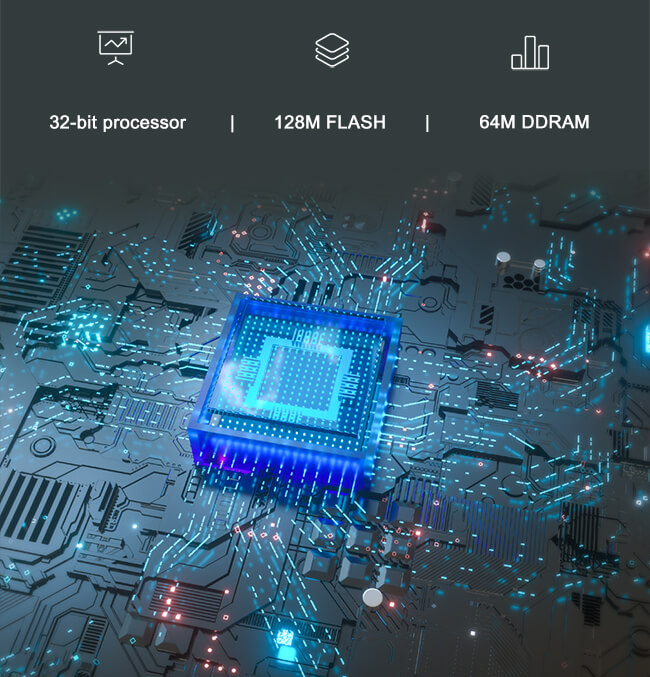 Simple operation, in one step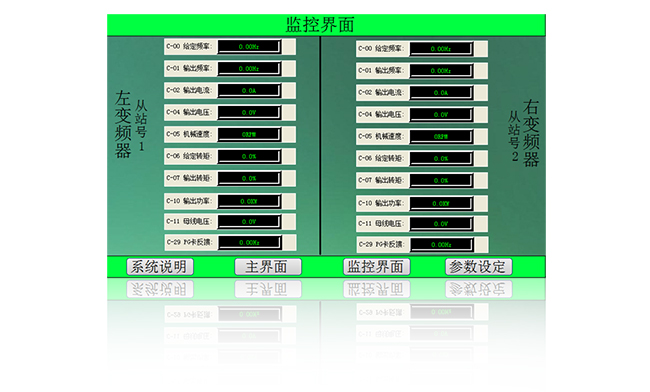 1. VI10|Studio programming software can be completed quickly with simple operations.
2. Support PLC control to transmit formula data.
Connect various peripheral devices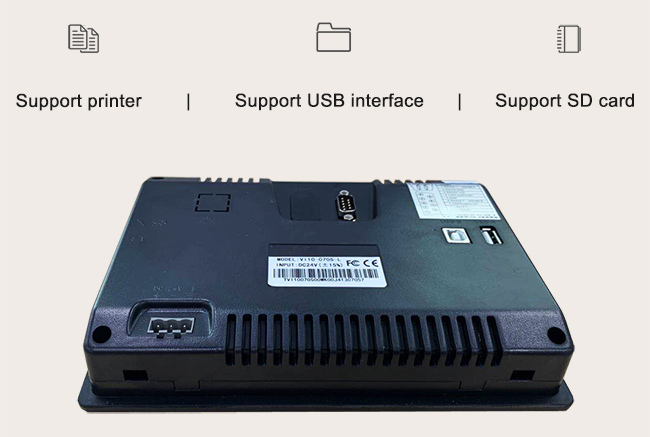 1. Support serial printer, support USB and SD card import and export files.
2. Support RS485/rs422/rs232 serial interface.
It can continue to run in harsh environments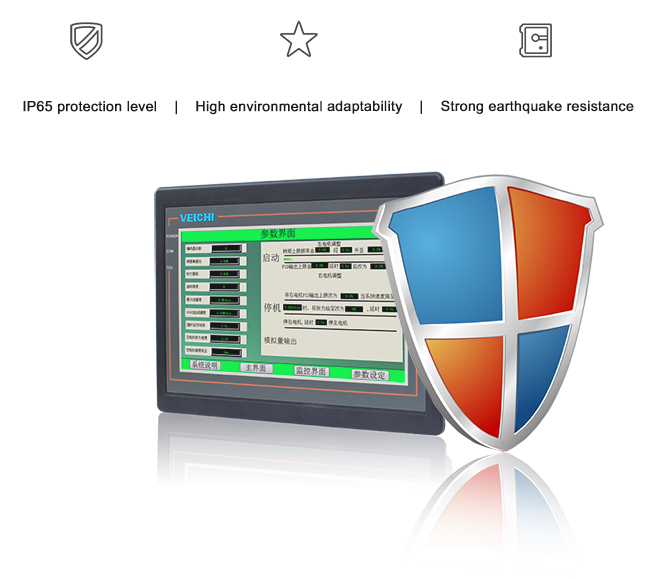 1. The protection level of the panel is IP65.
2. The ambient operating temperature is -10℃~60℃.
3. Strong anti-vibration ability.
Multiple choices, flexible options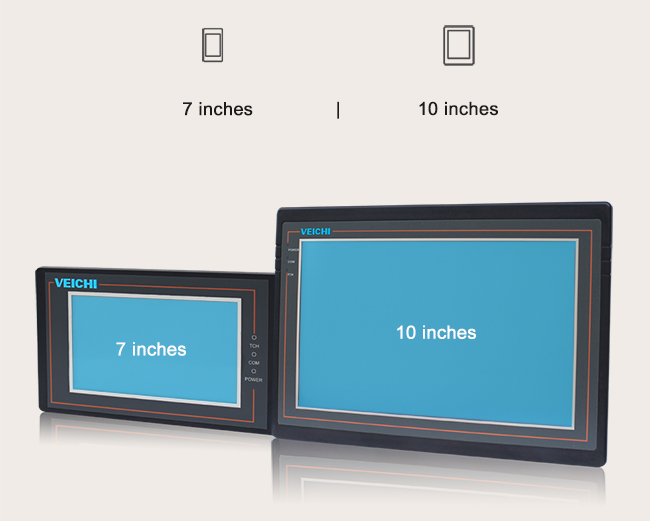 Industrial Applications for VI10
Applications:Petroleum and natural gas, chemical pharmaceuticals, and other electrical environments require explosion protection.
Specifications
Performance Specifications

| | |
| --- | --- |
| Display size | 13.386 inch true color TFT(219.6W×131.76Hmm) |
| Resolution | 800×480 pixels |
| Display colors | 65536 color |
| Brightness | 300cd/m2 |
| Touch screen | 4 line precise resistor network (surface hardness 4H) |
| LCD life | 50000 h |
| CPU | 32-bit 400MHz RISC |
| Memory | 128M FLASH + 64M DDRAM |
| Power down Memory RTC | 256KB+real-time clock |
| Memory | 128M FLASH + 64M DDRAM |
| Printing port | Serial print/USB printer |
| Ethernet | Optional |
| Program download | 1 USB SLAVE interface |
| USB host | 1 USB Host |
| Communication port | COM1:RS232/RS422/RS485 |
Electrical Specifications

| | |
| --- | --- |
| Rated power | Less than 5W |
| Rated voltage | DC24V |
| Input range | 12~28VDC |
| Allowance of power loss | Less than 5ms |
| Insulation resistance | More than 20MO 500VDC |
| Pressure endurance test | 500V AC less than 1 min |
Structural Specifications

| | |
| --- | --- |
| Shell color | Black |
| Material of cover | ABS plastic |
| Dimension | 272W×200H×47.5Dmm |
| Installation hole size | 260W×179Hmm |
| Net weight | 1.2kg |
| Wet weight | 1.7kg |
Product Certificate

| | |
| --- | --- |
| Panel protection grade | Comply with IP65 certificate |
| CE | EN61000-6-2:2005, EN61000-6-4:2007 standard certificate |
| Compatibility | FCC Class A certificate |
Downloads
| File Name | Type | Language | File Type | Update | Download |
| --- | --- | --- | --- | --- | --- |
| Introduction of Internet of Things | Catalog | English | PDF | 2018-02-04 | 2.4MB |
| HMI&PLC Catalog | Catalog | English | PDF | 2018-07-03 | 24.3MB |
| VI10 Studio 20190429 EN | Software | English | ZIP | 2018-10-11 | 173MB |
| VI10StudioU20190429 for VI10-070S-L | Software | English | ZIP | 2019-07-16 | 173MB |
| VI10lStudioP20190715 for VI10-0X0D-IX | Software | English | ZIP | 2019-07-18 | 177MB |
| VI10 Studio 20190715 VI10 IX | Software | English | ZIP | 2022-09-19 | 177MB |
Buyers who liked this product also liked