Veichi provides industrial touch screen in various models such as VI10-070, VI10-102 and VI10-043S. They are general purpose HMI, compatible with PLC of the most brands. Below are the key features:
1. Screen Size
95W*54H mm(VI10-043S) and 219.6W*131.76H mm (VI10-102S) industrial monitor with resistive TFT touch screen.
2. Working Temperature
It is available to work perfectly in wide operating temperature range: -10°C to 65°C.
3. Screen Resolution
It is designed with 480 x 272 resolution (VI10-043S), 800 x 480 resolution (VI10-070 and VI10-102).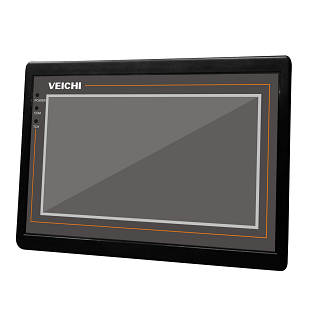 4. IP Degree
V5 is designed with IP65.
5. Communication
V5 supports multiple communication modes.
6. Backlight
It adopts the latest LED backlight technology.
7. Storage
It is designed with 128M Flash and 64M DDRAM, featuring fast response speed.