BU30 series brake unit is mainly used in large mechanical load occasions and occasions which require fast braking speed. It can consume the motor generated regenerative energy or feed it back to current. This product has a reliable quality, wide range of applications, modular structure and other advantages.
1. Simple and beautiful appearance, high protection, easy installation.
2. Convenient control part, flexible and adjustable, user-friendly.
3. Overheating and short circuit protection improves product reliability. It also has fault indication and fault signal output function what can feed back abnormal situation timely.
4. Three brake gear, high-precision design.
Parallel Control Scheme
Wiring diagram of multi-machine parallel operation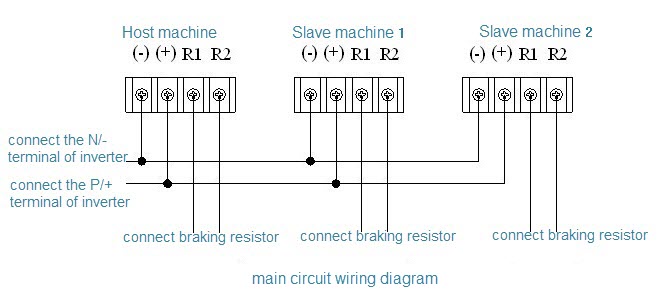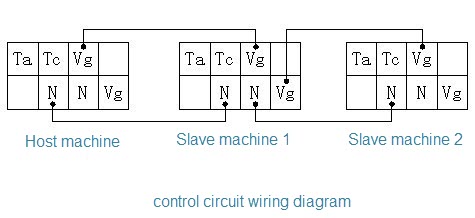 Braking Unit Output Speficiations
Brake unit model

Minimum resistance

Peak braking current

Adapt to inverter power

Light load

Heavy load

BU30-3-075

12Ω

75A

55 - 75KW

22 - 45KW

BU30-3-100

9Ω

100A

90 - 132KW

55 - 75KW

BU30-3-150

6.2Ω

150A

132 - 160KW

90 - 110KW

BU30-3-300

3Ω

300A

185 - 250KW

132 - 160KW

BU30-6-075

12Ω

75A

55 - 110KW

22 - 55KW

BU30-6-100

9Ω

100A

132 - 160KW

75 - 110KW
Technical Specifications
Items

Specifications

T3

T6

Power supply

Busbar voltage

DC400V - DC900V

DC600V - DC1300V

Control

Braking mode

Automatic voltage tracking mode

Response time

1ms or less, there are multiple noise filtering algorithm.

Operating voltage

Braking voltage point can be set arbitrarily. For the setting method, see section 4.1 of user manual. Large deviation of this value is ± 10V.

Hysteresis voltage

Parameter can be adjusted, see section 4.1 of user manual.

Protection function

Overload, short circuit, over temperature

Parallel input

Automatically identify whether it is parallel drive or not, no parameter settings.

Parallel output

Display and Sets

Status display

Power indication, operation indication and fault indication

Operation monitoring

The bus voltage can be viewed via the keypad.

Operation voltage setting

BU30 products can be set by the keypad of VEICHI and other optional ones.

Environment

Installation site

Indoor, altitude should be less than 1000m (should be derated 10% with every 1000 meters altitude), no corrosive air or direct sunshine

Temperature

-10 ~ +40℃, good ventilation

Humidity

Below 90%RH (no condensation)

Vibration

Below 0.5g

Installation

Wall-mounted

Cooling

Forced air cooling