Hannover Messe was founded in August, 1947. Over more than half a century of constant development and perfection, now it has already become the biggest trade fair of worldwide industry area. It has been commonly regarded as the most important international activity connecting technology filed and business area.
1. Overview About Hannover Messe
Hannover Messe has a high reputation that it serves as the benchmark of exhibition in industrial area and research field as it has gathered high international engagement, excellent theme exhibition and high-end policy makers. It has attracted numerous policy makers of various industrial fields, countless manufacturers and wholesalers, electrical engineers and so forth. It is reported that there is one CEO or chief executive in every five trade visitors, which makes the Hannover Messe peerless with other similar trade fairs.
2. The History of Hannover Messe
The Germany Hannover Messe was founded in August 16th, 1947 with 1.2 million Mark registered capital. At that time, the Second World War had just finished and the German was in trouble with house collapsed, industry bankrupted and lacked of food in a long time. In order to let the entrepreneurs, workers and politicians see the hope of economy recovery, the Hannover government determined to hold the exhibition in Hannover from August 18th, 1947 to September 7th, 1947, so the first Hannover Messe was held in Vereinigten Leichtmetallwerke. The aim of the first exhibition was demonstrating the "Made in Germany" products which are suitable for export.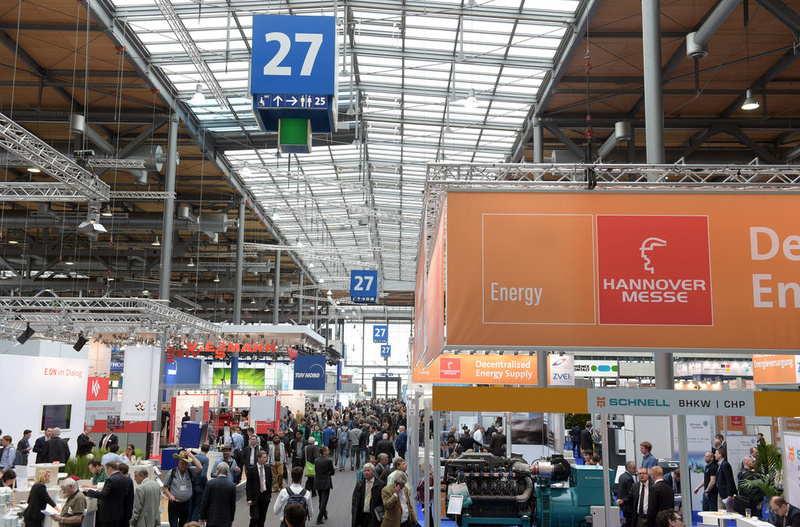 This exhibition received satisfactory results: during the 21 days of exhibition, 736,000 visitors coming from 53 countries participated the Hannover exhibition. About 1300 exhibitors in 30,000 square meters of exhibition hall exhibited their products and services. The orders and signed business contracts was up to 1934 parts of a total amount about 31.6 million. The Hannover Industrial Fair had a great success just like it was helped by the Hermes, the director of market and trading god in Greek mythology, so the Deutsche Messe AG determined to set the Hermes side head as its company sign until day.
At the beginning, almost everyone suspected that Hannover is not comparable with Leipzig, "The Capital of Exhibition". But in the next few years, Hannover Fair has gradually become the symbol of the German economy miracle. In 1948, the first telephone communication is established between the exhibition and New York. In 1950, the first foreign exhibitors participated it and the fair was renamed to Deutsche Industrie-Messe. In 1961, the government officially adopts the name "Hannover Messe" and it quickly became an important communication platform of international technology and industry.
3. The Exhibits Range of Hannover Messe
Totally it has 13 exhibition themes, including: industrial components and sub-contracting and technology exhibition, industrial automation show, digital Industrial exhibition, energy exhibition, environmental technology and equipment exhibition, wind energy technology exhibition, compressor and vacuum technology exhibition, power plant technology exhibition, surface treatment technology exhibition, new energy automotive technology exhibition, research and technology exhibition as well as coil winding and technology exhibition.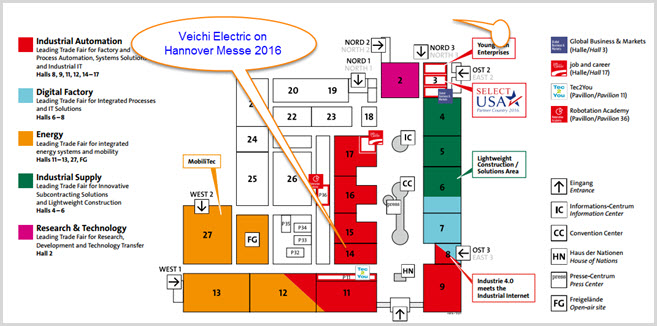 4. Veichi Electric Takes Part in Hannover Messe 2016
As one of the leading manufacturers and suppliers of industrial automation products, of course, Veichi Electric will not miss the good chance to communicate with the global industrial enterprises, researchers and traders, to display our best-selling products such as AC70 sensorless vector control inverter of induction motor, AC70E mini portable inverter, PLC, HMI, servo drive and etc. to the worldwide.
Jan Fan and Misha will be present at the Hannover Messe on Hall 14, Booth H40-2. If are interested in our products and services, please contact us via E-mail ([email protected]) or via other means on contact us page.