Light steel keel for construction (keel for short) is made of cold-rolled steel plate (strip), galvanized steel plate (strip), or color-coated steel plate (strip). Thin-walled steel components produced by cold bending process. It has the advantages of a lightweight, high strength, waterproof, shockproof, simple construction, and short construction period. It is widely used in building construction, interior decoration, plant reconstruction, and other places.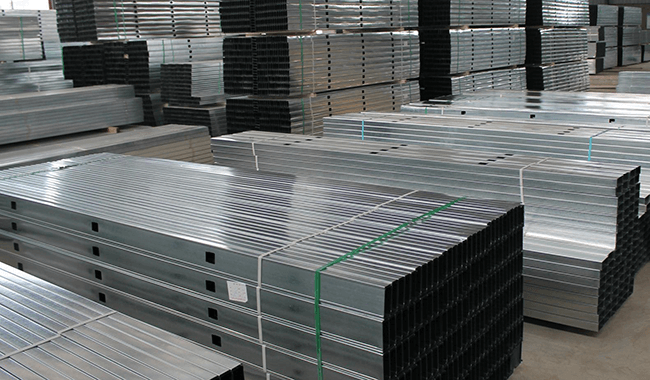 The keel packaging machine is the last piece of equipment on the keel production line. The main function of the equipment is to pack and stack the keels discharged from the front-end production line, then carry out small bundles (tape winding), and finally stack the bundles of small bundles of keels, stack them into a whole stack and discharge them.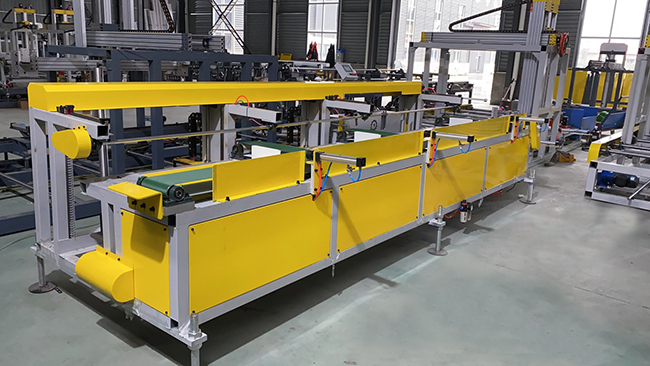 The light steel keel packaging machine system solution independently developed by VEICHI can match the keel production lines of different models and production efficiencies. According to the "high-speed machine", "medium-speed machine" and "low-speed machine" in the keel packaging machine, the production speeds of the front keel production line are 130 m/min, 100 m/min, and 80 m/min.
Light steel keel packaging machine system solution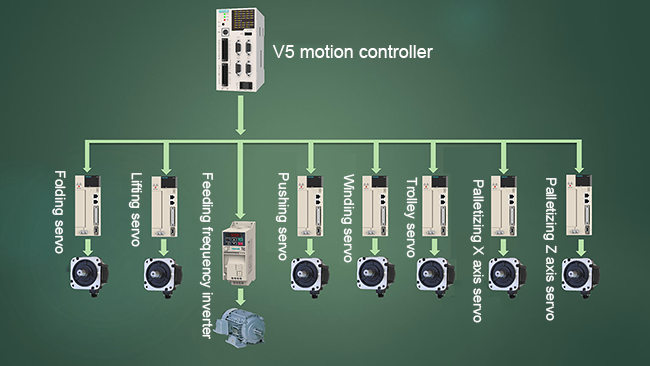 VEICHI provides a complete set of control systems, including touch screens, motion controllers, Servo Systems, and inverter systems. Adopting the high-performance V5-MC104 motion controller of VEICHI as the system control core, it communicates with the HMI through RS422 to realize the data interaction between the HMI and the controller. The output pulse is used to control the position of 6 servos, and the position and torque mode of one servo is switched through Modbus communication.
System solution advantage
1. The whole machine adopts our V5 motion controller, dual CPU hardware architecture, faster bottom layer processing speed, centralized control of the man-machine interface, stable performance, easy operation, and maintenance.
2. All parameters are displayed in real-time by the man-machine interface, various specifications can be preset, and the position of each station can also be adjusted through the parameters.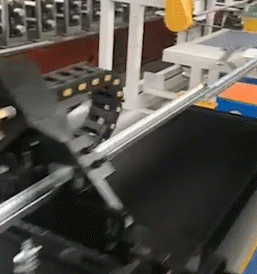 3. The pulse signal from the V5 controller to the servo adopts a high-speed differential signal, which has high stability and is not susceptible to interference. The maximum pulse speed of the differential pulse port is 3M, which can achieve extremely high control accuracy and can accept the pulse feedback signal of the servo 4M.
VEICHI light steel keel packaging machine system solution, the connection interface between different electrical components is unified, the settings are consistent, compatible with each other, simple and convenient, and easy to maintain. While effectively helping customers increase production capacity, it also ensures the overall stability of the system.
The core of manufacturing is innovation, and the core of innovation is quality. With an in-depth understanding of the industry and continuous pursuit of innovation and quality, VEICHI will also introduce more efficient and reliable products and trustworthy solutions to enhance the core competitiveness and create value for more industry customers.