Nowadays, with the continuous development of society, more and more private cars have entered ordinary families, and the problem of nowhere to park vehicles is a consequence of the social, economic, and transportation development of the cities. The three-dimensional garage is an effective tool that can be used to maximize the storage and storage of vehicles or machinery and equipment. It is an effective tool for professional garage management companies to increase parking capacity, increase revenue, and increase parking fee income. Compared with the underground garage, he can more effectively ensure the safety of people and vehicles. If the person is in the garage or the car is not allowed to stop, the entire electronically controlled device will not run. It should be said that the mechanical garage could achieve a complete diversion of people and vehicles from the management. The use of mechanical storage in underground garages can also eliminate heating and ventilation facilities. Therefore, the power consumption during operation is much lower than that of underground garages managed by workers. Therefore, the use of three-dimensional garages has become more and more popular in the eyes of the public, and has attracted the attention of the public.
Stereo Garage System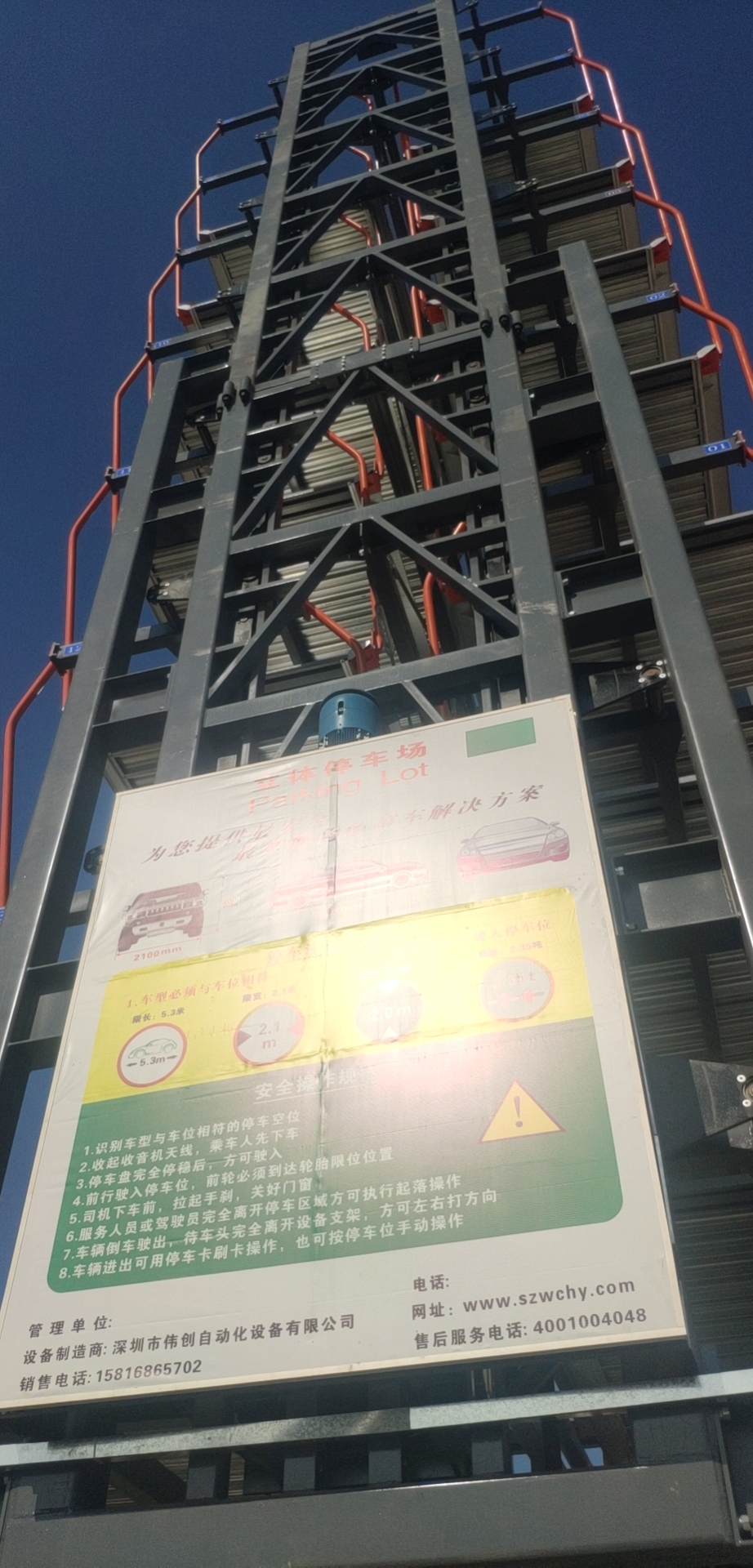 Vertical circulation stereo garage
Among different types of stereo garages, vertical circulation stereo garages are widely welcomed by customers due to their unique advantages. The characteristics of the whole machine:
Among different types of stereo garages, vertical circulation stereo garages are widely welcomed by customers due to their unique advantages. The characteristics of the whole machine:
Convenient: It can use the PLC to control the auto-tuning, and access the car with a single keystroke.
Fast: short transfer time, fast pick-up.
Flexible: It can be set on the ground or half above ground, half underground, can be independent or attached to the building, and multiple units can be combined.
Economy: It can save a lot of costs for land purchase, which is conducive to rational planning and optimized design.
Power saving: Generally, no forced ventilation is required, no large area lighting, and power consumption is only 35% of ordinary underground garages.
The role of the inverter in the stereo garage system
In the vertical circulation three-dimensional garage system, PLC uses an important control position in cooperation with the inverter drive. Relevant terminals and channels of the inverter are controlled by PLC, and signals such as frequency and command switch are adjusted, and then the inverter to rotate forward and reverse at a variable speed controls the motor. The function of changing the speed to control the storage and retrieval of the vehicle. Its working principle is shown below: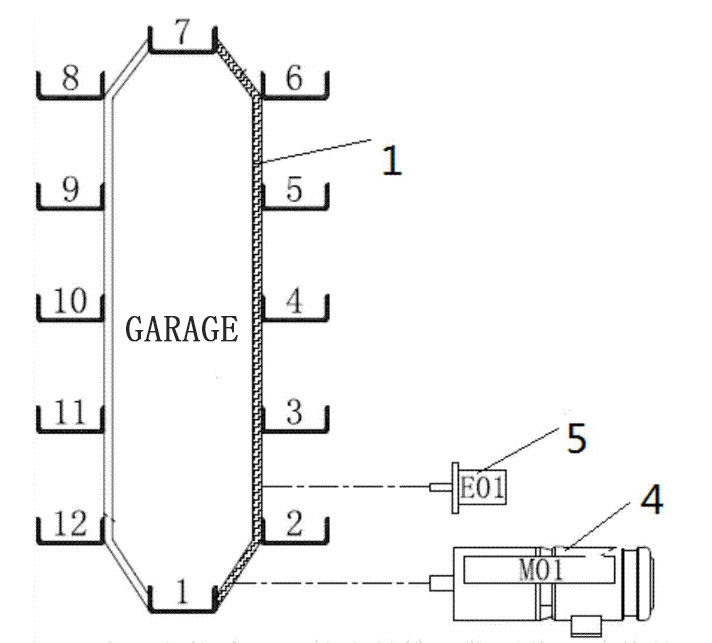 Schematic diagram of twelve parking spaces vertical circulation stereo garage
Advantages of VEICHI AC300 series inverters in stereo garage system
In such a system as above, our AC300 series inverter has a good performance effect.
Aiming at the above-mentioned sixteen parking spaces vertical circulation three-dimensional garage for one customer's needs, a 1.6T, 1.8T, 2.0T weight is placed on each parking space, and a NORD motor is used. The customer needs to run at low speed first, then control high-speed operation through PLC, and then automatically control low-speed operation, regardless of uplink and downlink.
The inverter selected by the customer on site was the first one to be used. After one day of on-site commissioning, the technical support staff could not start under the heaviest load, and the starting current was too large. In this case, the customer chooses to use our AC300 series inverter and use 37KW inverter to adjust and use it on site.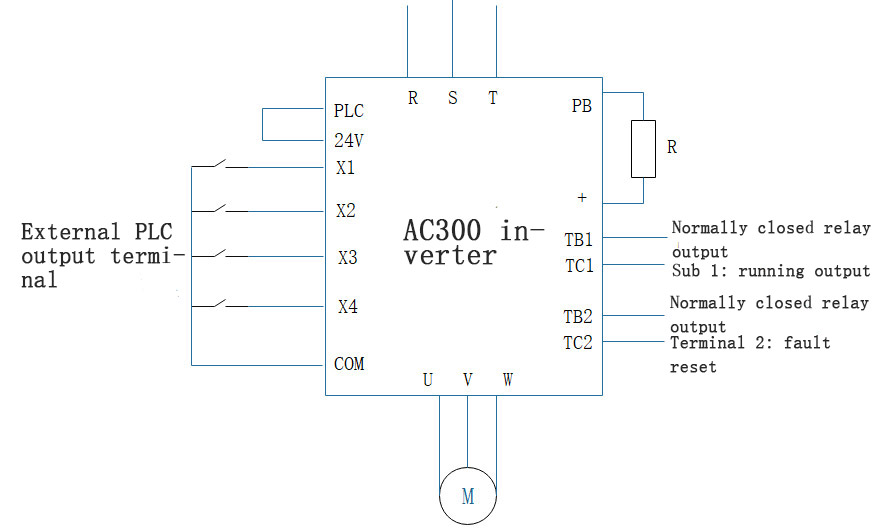 Application of AC300 series inverter in stereo garage
Our AC300 series products use VF control in the field, under the maximum load of 1.6T, 1.8T, start and stop control. Both can be started and stopped normally and steadily, the response speed is fast, and the smooth and stable garage cycle upwards and downwards are realized, and the effect is good.
Compared with other inverter products, the reason why our AC300 series inverter can be used stably and effectively in a three-dimensional garage is that the AC300 series inverter has the following advantages:
1. The movement is gentle and the starting torque is large. Among them, without PG vector control, 0.5HZ can reach 150% of rated torque, and with PG high-performance vector, it can reach 200% of torque. It can guarantee low frequency and large torque.
2. The world's leading motor self-learning algorithm ensures that it has a precise and good torque output effect on the automatic torque boost regulation.
3. The inverter comes with complete protection for faults such as inverter overload, overcurrent, undervoltage, phase loss, and motor overload, to achieve a full range of safety performance from the inside to the outside during the up and down operation of the three-dimensional garage.
4. AC310 series inverters are simple in application, can effectively and stably control the up and down operation of the three-dimensional garage without a large number of adjustment parameters, and have strong adaptability to different environments.
5. A comprehensive communication system, including 485 communication, CAN communication, DP communication, etc., which can realize the remote access to the ground and monitor the three-dimensional garage system, which is more flexible and convenient.
6. The outline structure of AC300 series inverter is book-type structure, which guarantees the reduction of space volume when AC300 machine is installed in the system and guarantees good heat dissipation effect in the running state.
Related parameter settings
The data settings in AC300 series inverter are as follows:
| | | | |
| --- | --- | --- | --- |
| parameter | name | set value | note |
| F00.19 | Parameter initialization | 1 | 1: reset |
| F05.00-F05.06 | Motor rated parameter group | | Enter according to the motor nameplate |
| F05.20 | Motor self-tuning | 2 | 2: Static self-learning |
| F00.00 | Motor control method | 0 | 0: VF control |
| F00.02 | Run command channel | 1 | 1: Terminal control |
| F00.03 | Frequency reference source channel A | 0 | 0:Keyboard number given |
| F00.08 | Keyboard number setting frequency | 25.00HZ | |
| F00.09 | Maximum frequency | 90.00HZ | |
| F00.11 | Upper frequency | 90.00HZ | |
| F00.14 | acceleration time | 1.5S | |
| F00.15 | deceleration time | 0.1S | |
| F02.00 | X1 terminal command | 1 | Forward running |
| F02.01 | X2 terminal command | 2 | Run in reverse |
| F02.02 | X3 terminal command | 8 | Fault reset |
| F02.03 | X4 terminal command | 16 | Multi-speed terminal 1 |
| F02.44 | Relay 1 output | 1 | nverter operation |
| F02.46 | Relay 2 output | 4 | error alarm |
| F04.29 | Energy consumption braking action enabled | 1 | 1: Turn on energy-saving braking and turn off overvoltage suppression |
| F04.30 | Energy braking point | 700V | The default is 740V. The braking resistor is connected to the PB and + terminals of the inverter. |
| F08.12 | Torque boost | 0:Automatic torque boost | Self-learning before using automatic torque boost |
| F12.00 | Multi-speed 1 | 70.00HZ | High-speed operating frequency |
Summary
The AC300 series inverter drive control scheme of VEICHI has obvious advantages in the application of the stereo garage system, and can reliably and stably ensure the up and down circulation of the stereo garage and stable operation. In accordance with the values of customer-centric and development-oriented, VEICHI innovating and keeping pace with the times. Continuously provide customers with the best electric drive solutions. In the future, VEICHI will go hand in hand with you.