Industry introduction
Winding machine is important processing and production equipment widely used in the electronic and electrical industry. Its purpose is to use enameled copper wire to wind an inductance coil. A winding machine is a kind of mechanical equipment that requires high speed and precision control. The control system is required to provide very precisely, smooth line speed and flexible commutation capabilities. Winding machines are widely used in the manufacturing industries of toroidal core voltage regulators, transformers, and current transformers.
The equipment mainly includes a parallel winding machine, ring winding machine, stator, and rotor winding machine, textile winding machine, voice coil winding machine, etc.

System topology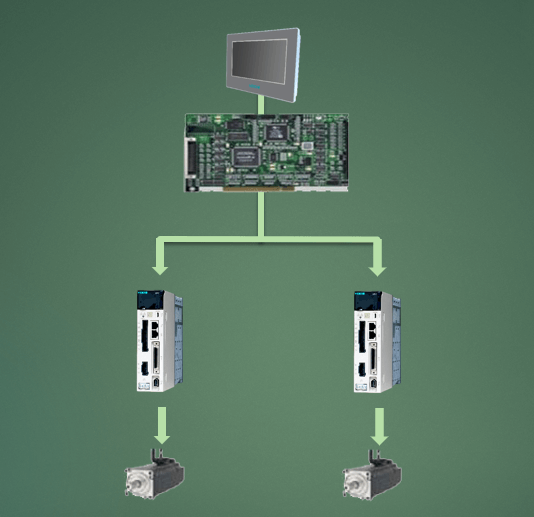 Program highlights
1. The SD700 higher speed loop response can easily meet the interpolation between the master axis and the slave axis. Algorithms for different mechanical structures can easily optimize the bandwidth required for auto-tuning the response.
2. The use of an intelligent setting can make the servo in-depth self-learning, complete the parameter setting of the servo gain, and let the servo exert its best performance.
3. The powerful upper computer software makes the debugging easier and the debugging result better.
4. Weichuang Servo has a powerful bus communication function, which is convenient for customers to choose solutions.
5. Combining on-site technology and load conditions, select a dedicated servo motor to make the load operating accuracy more stable and accurate.
Process principle
The winding motor adopts the upper computer control to return to the origin when it is powered on or reset. Absolute positioning mode is used during an operation to ensure that errors are not accumulated. All process angles are for approaching the signal as the origin to ensure accuracy. When winding, take the first round of non-winding treatment to ensure the edge is flat. The wire-arranging motor adopts the program request to return to the origin when power-on or reset. The winding process always adopts the master-slave follow function of the servo drive. Follow the winding motor, and directly adopt the method of changing the gear ratio to a negative number when commutation is in place.
The cam control scheme adopted by the PLC control system has high precision, high reliability, abundant user's various parameter settings, and easy maintenance.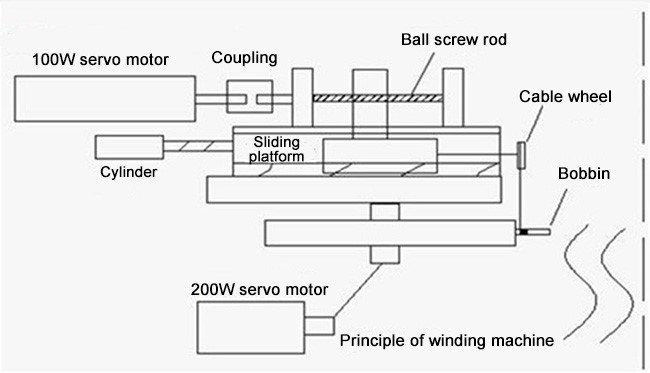 Technical index
The thinnest metal wire can be up to 2 wires.
Winding proofing can reach a thickness of 40 layers.
Application