Industry introduction
Nowadays, packaging bags have a huge consumption in the market. Improving production efficiency, ensuring processing quality and long-term working stability are the core concerns of manufacturers. In the plastic products industry, a bag-making machine is a machine used to make all kinds of plastic packaging bags. The main processing range is various plastics with different sizes, lengths, and thicknesses.
System topology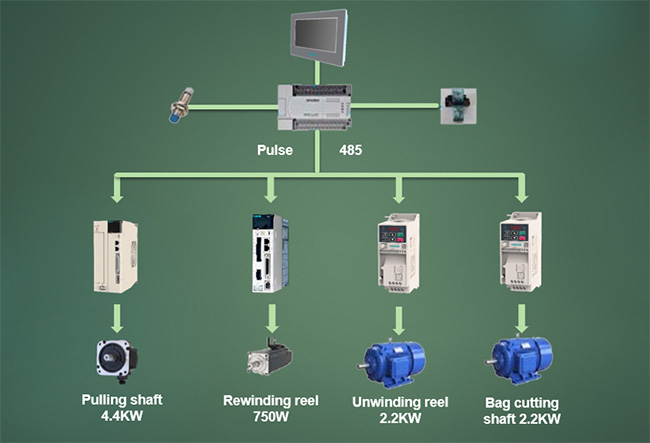 Program highlights
1. The servo drive is easy to debug, and the control part is easy to wire.
2. Use a 23-bit high-resolution encoder to meet the high-precision positioning and rapid response of the bag-making machine.
3. Combining on-site technology, optimizing acceleration and deceleration curves and internal algorithms, improving the servo response, reducing the servo load rate, making the load start and stop softer, and the processing product progress and benefits are higher.
4. The bag-making speed can reach 400pcs/min, the servo operation is stable, no abnormal noise, and it can adapt to long-term 24H uninterrupted work.
5. Combining on-site technology and load conditions, select a dedicated servo motor to make the load operation more stable and accurate.
Process principle
The production process of heat-sealing and cutting equipment mainly consists of traction, color code detection, positioning, and hot-cutting processes. The system is controlled by a microcomputer controller, and the traction part uses AC10 series frequency converters to control two variable frequency motors. The up and down reciprocating movement of the cutter is controlled by a frequency converter-driven variable frequency motor. The bag length positioning of the packaging bag is realized by using the SD700 servo driver to control the servo motor to drive the feeding roller. In addition, photoelectric sensors and thermostats are used as measurement and control components to feed back signals to the controller.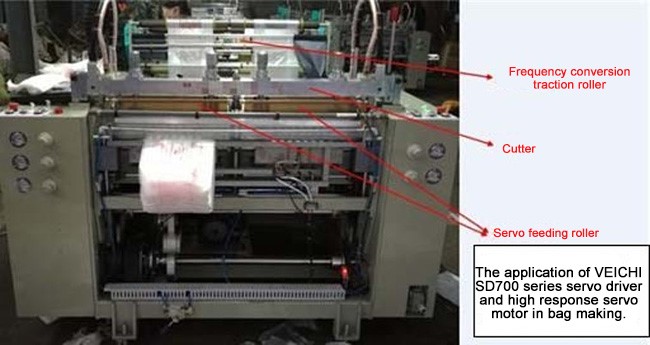 Technical index
1. The material pulling axis of the bag-making machine system adopts a 4.4KW servo. In the case of frequent start and stop, the servo driver has a strong overload capacity and high response.
2. The winding system is a 750W high-inertia servo, which has a relatively strong ability to resist external interference, quickly respond, and improve the winding efficiency.
3. The bag cutting shaft and unwinding shaft are controlled by an AC10 frequency inverter.
Application